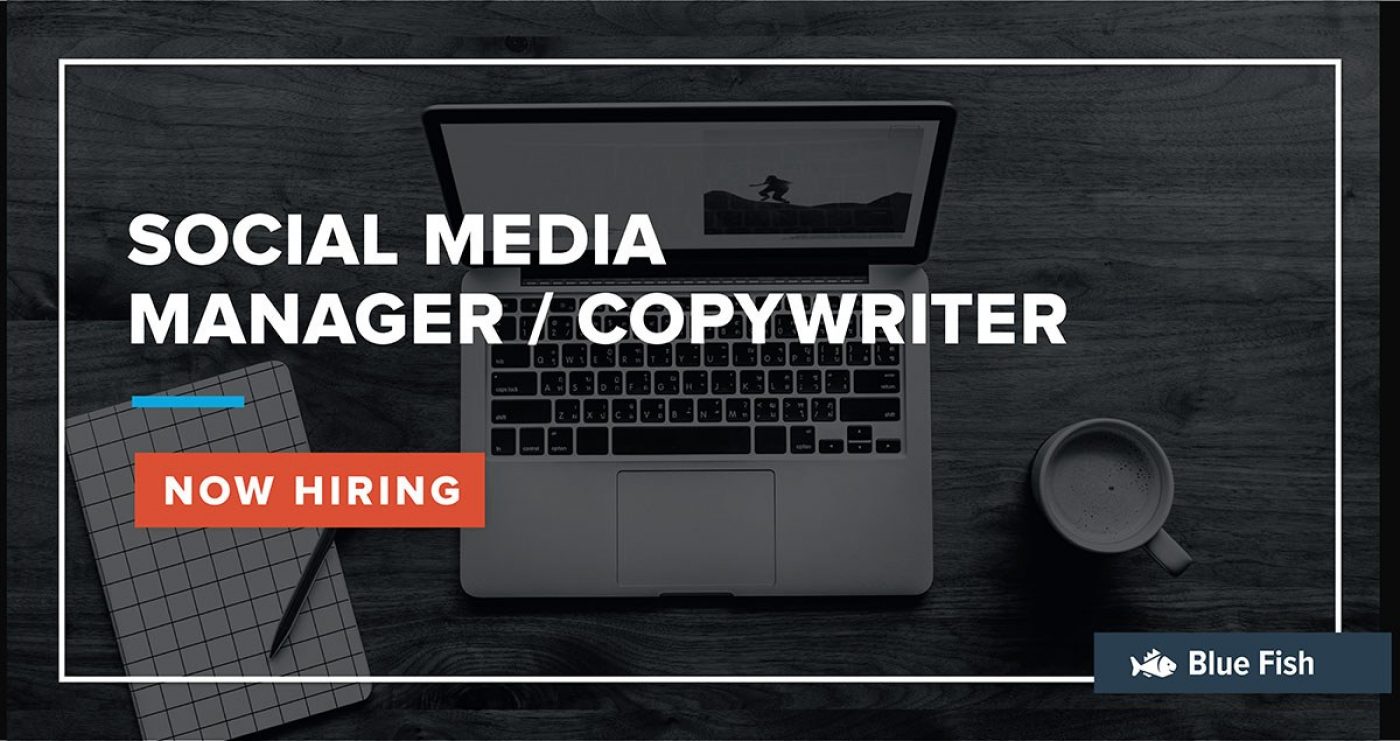 Blue Fish is seeking a Social Media Manager / Copywriter on-site for our team. The ideal candidate will be a confident, self-starting type. If hired your work will be seen by hundreds of thousands of people around the world. You will have the opportunity to shape creative concepts for client graphic design, branding, video elements, social campaigns, and more.
What is Blue Fish?
Blue Fish was founded in 2008 and is located downtown in Mobile, Alabama. Our offices are located within walking distance to over 30 extremely tasty restaurants. Downtown Mobile is undergoing a resurgence and we are excited to be in the midst of it. We serve clients from all over the world. Our primary focus is providing our clients with an overwhelming value for their money. We are also extremely focused on results. We are professional problem solvers. If that sounds like you then you will fit in.
Responsibilities
As an agency, we generate all kinds of deliverables on any given week. From promotional items, to creative videos for our clients. If you are the right candidate for this position you'll be able to take on projects from concept to finished campaign, paying attention to the details along the way. You will also need to be able to clearly articulate why you made the decisions you made regarding the final deliverables.
Skills and Experience
We would prefer someone with a minimum of 1-2 years of experience or equivalent, but our focus is on your work. We are interested in finding someone with strong writing skills. Someone with the ability to pair adjectives with adverbs to create a feeling or mood that then compels the reader to take some action. And you'll make us head over heels if you understand User Personas and how to reach audiences online. That said, we want someone that can help us dream big but also understands time constraints. A team player with a positive attitude & high energy; Debbie or Donnie Downer need not apply.
We love you if you:
Have strong writing skills
Are familiar with social media advertising
Have the ability to build audiences
Have solid writing samples
Can create simple graphics for social media
Photography Experience would help
We need you to:
Be creative!
Be passionate about your work
Work well with others
Have a good sense of humor
Send us your resume, writing samples, or campaign samples and why you think you'd be awesome for this position to hi@bluefishds.com.