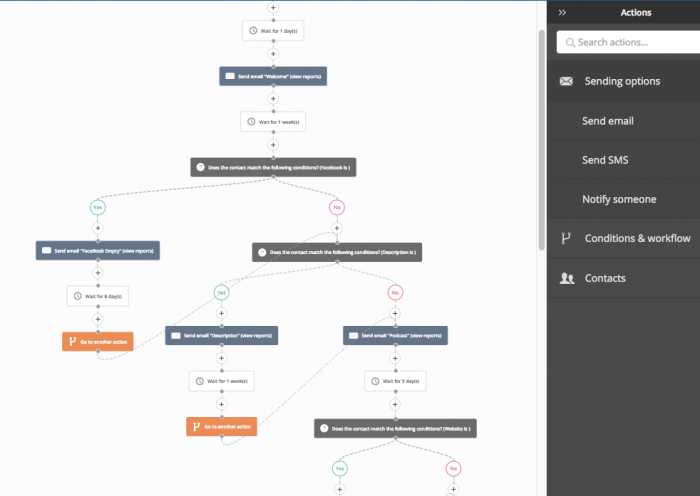 Recently we have been getting quite a bit of questions about Marketing Automation. Many organizations are looking at increasing their effectiveness in marketing, and one way of doing that is to use Marketing Automation. In this blog post we'll introduce this concept and give some examples of how you might apply it.
Wikipedia defines Marketing Automation as:
Software platforms and processes that help marketing departments more effectively market on multiple channels online (such as email, social media, websites, etc.) and automate repetitive tasks.
The above definition is pretty vague in how one might apply it but Marketing Automation is kind of vague in its application. It might be something as simple as connecting the Twitter and Facebook accounts for an organization so that the information is shared (this is rarely effective by the way). Or it can refer to an email strategy for building warm leads. This is the facet of Marketing Automation I want to share with you.
So most people are familiar with email newsletters. A person subscribes and then when the next newsletter goes out they receive it. Email newsletters typically cover events or news that has happened since the previous newsletter was sent. Marketing Automation allows you to change that. It allows you to still send those if you wish, but more importantly it allows you to send specific series of emails to folks that subscribe. So instead of receiving the email newsletter for July 2015 the new subscriber receives email #1 in a series of x emails.
We use a simple set up for our internal project, MobileAL.com. When a business enters in their information into the business directory they are entered into an Automation. We are not necessarily marketing our services to them, but we are using Automation to help them and to market the site. One of the first things they get it a welcome email. A week later the system checks to see if they have a Facebook page filled in. If they do not then they get an email asking them to go back and fill it in, or it gives them the 4 steps to create one. There are similar triggers for other pieces of information we have as part of their profile in the business directory. They get these emails in an effort to make the business directory and their listing more complete. And on occasion we send an email reminding them to check out the podcast or submit some news.
Another, more complex example of Marketing Automation would be for an e-commerce store. Imagine you run one of the Alvin's Island or SurfStyle places down in Orange Beach. You decide to put all of your inventory online in an e-commerce store. Someone visits the store and purchases a pair of sunglasses. That information would get noted in the Marketing Automation system and instead of just getting emails with generic products in it that person would get other styles of sunglasses and assorted accessories (glasses cleaning kit, retention cord, etc) but you also receive 1-3 items that are not part of that genre. If the shopper clicks on the picture of a graphic tee then that gets entered into the system and the next time they receive an email there would be additional information about graphic tees
A final, more simplified example I would give is for a professional services business. Say you are an accountant. You could set up all of your emails for the year in advance. You front load all of your contact information and categorize people based on circumstances and the services they use. At a simple level, you would have the system send out reminders for business owners about quarterly estimated taxes. On off months you might send them an email about your payroll processing or bookkeeping services if they are not already clients for that service. When tax time rolls around you would send them an email with all of the paperwork you will need from them to process their taxes.
I could go on but I think you can begin to see the power of a system like this. It allows you to set up the order that you want people to receive the emails in and it also lets you set criteria for which emails they receive. Quite powerful. We'll be blogging more about Marketing Automation in the future but if you are in need of some help get in touch. We can help with selecting the system (there are many), importing the data, writing the emails, and setting up the flows.