This last week we put the finishing touches on a new website for one of my favorite local restaurants, Sugar Kettle Cafe. Those of you that are local really need to check this place out. They have THE BEST! waffles and their chicken fried steak will make you smack your Mama (not that we condone that sort of thing). They have had a location in Daphne across from Target and they just opened a new location in Bay Minette near the courthouse. If you have not been there then you need to go. Seriously, it is one of my favorites.
As part of launching a new location Michelle and the folks at Sugar Kettle knew that they needed to revamp their website. They needed something that would work for them vs the old site which was just something they put together on their own. It carried them, like a trusted steed, for years. But this is not the face of Sugar Kettle Cafe they wanted to put forth.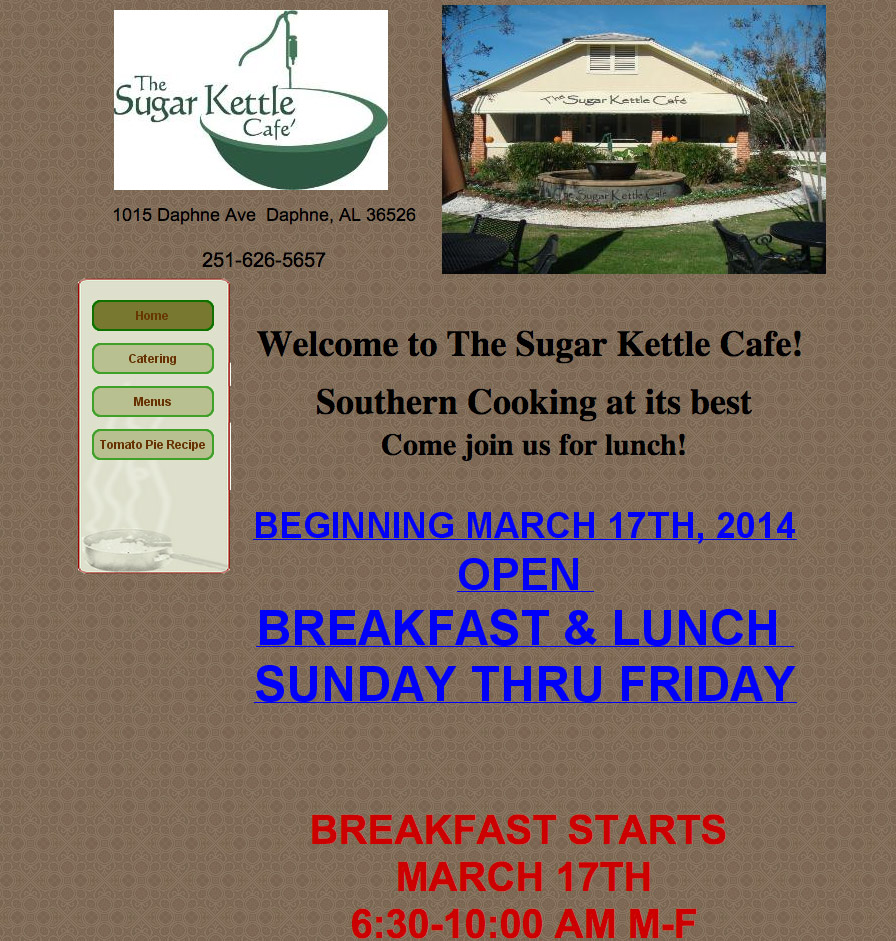 So we put together a basic site for them using our Bluey CSS Framework and Statamic. Statamic allows them to manage all of their content as text instead of trying to format it all as a webpage, or even worse, making your visitors download a PDF.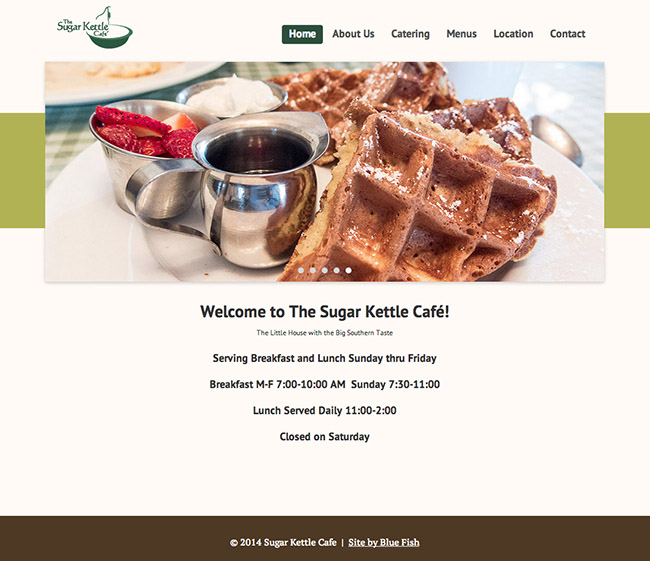 What Makes a Good Basic Restaurant Website
A restaurant website does not need to be flashy. In fact if anyone mentions the word flash to you as a restaurant owner then run away. You do not want a flashy looking site, nor do you want the archaic, now dying a slow death, flash technology associated with your site. What a proper restaurant website needs are these:
Make sure that the hours, phone number and location are posted prominantly on the site - You do not want people to have to hunt around on their smart phone trying to figure out if you are open or not. It also keeps them from having to call, which is the last thing you need to be doing in the middle of a busy shift.
Make sure that the site is mobile friendly - We've all done it. Pulled up a restaurant's website on our iPhones as we are on the way to the restaurant only to find out they have a crummy Mobile version of the site that has not been updated in 3 years or don't provide a mobile friendly version at all. This is 2014. One of our clients saw a 50+% traffic increase when we launched a mobile friendly version of their site. Those are huge percentages. Ideally the site is a responsive site that resizes to the different sizes depending on the resolution of the visitor's screen.
Make sure you have pictures that display your food in a nice way - This should go without saying. You are trying to sell the sizzle. If you put up some pictures taken with your flip phone (or even an iPhone) that are blurry and horribly lit then you are going to scare folks away. And using stock photos is so 1990s. Just hire a good photographer (or barter, photographers like to eat) and get some good pictures for your site.
Make sure that the menu is not a PDF and definitely not a static image - This last one is a buzz kill. You go to a restaurant website and they have a huge PDF that you now have to download to your phone to read. The average HTML page is less than half a megabyte. The average menu PDF is somewhere in the 3.5-4 megabyte range. If I have spotty cell service or a limited data plan you just lost me as a customer.
Don't overdo it - People are coming to get basic information about your restaurant. They want to get the hours, phone number, location, or menu. They want the site to be neat and tidy. They do NOT want to have music start, large flash intros, or massive image files that they need to get through in order to get to the info they want. Wow them with your ambiance. The website should be a place that they only remember because it was helpful.
Make sure you have Google Analytics installed - And make sure to use it. Google Analytics is free. Yes, I said FREE. And it is super simple to install. If you need assistance in making sense of the data then refer to my Getting Started with Google Analytics post I did a couple of months ago. Here is the thing. Online marketing is the best kind of marketing because it is the easiest to measure. Google Analytics gives you all of the information you need to make smart choices about where to advertise. If you need more assistance coming up with some strategy then give us a call. We love talking about that sort of thing. And it may just end up saving you thousands per year in advertising costs.
It should be super simple for you to edit the content on the site - If it requires a lot of effort on your part then you are not going to keep it up to date. Ideally your friendly website builder will create one using a system like Statamic or ExpressionEngine. Stay away from folks selling you a WordPress template. If you need to know more info about why then email me. I promise not to bite.
There are only two situations where I can think of that you would want to break these rules. The first is if you are a restaurant where the cost is more than $150 per person. The clientele that frequent your establishment are probably not checking your website so you can do whatever you want. And you probably have the money to do so.
The second is if you are a restaurant that has a lot of events or music. We used to manage the online marketing for one of the local restaurants here that has music 4-5 days a week. We built a website that allowed people to see all of the events that were taking place. We made it easy for the staff to update the event calendar and provide visitors with a lot of information about the acts that were playing. We also drove a ton of traffic to the site through an email list that we set up and grew over a number of years. There was not many a night where that place was not packed.
So, if you are local you deserve to check out 1 of the 2 locations for Sugar Kettle Cafe. I mean... look at this chicken fried steak!